The Last Adventure, part III - The Cult of Kwame Nkrumah
In the morning I check out of the guest house, and look at the slip Emmanuel has given me days before detailing the money he has spent. Lodging is listed at $75, which at $10/night for two nights is a bit inflated. I speak with the owner, and she assures me, the bill was $20, ten dollars for two nights, but your friends already paid for it. While waiting for the shared Taxi,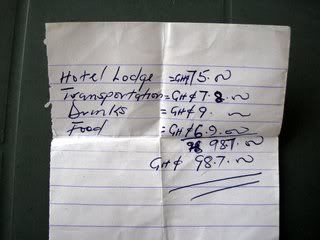 I mention it to Emmanuel, how nice the room was, and what a bargain at $10/night. Busted, he does not say anything, finally I ask him why he would list the rate at $75, when really it was $20? He tells me I misunderstood, and I tell him what the owner says, and he offers several other excuses. When I say, lets go talk to the owner and clear this up, he pleads with me, "if a white man reports this problem, he will be sacked," which I take as a sort of confession, but think about until I get back to Accra.
The programme for today is to visit the birthplace of Kwame Nkrumah, Ghana's founding father and first president. He is Ghana's George Washington. During his presidency, this childhood home in Nkroful, had been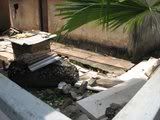 built up, but during the 1966 coup when even saying the word Nkrumah could get you arrested, the military had it leveled. Today the site, it a mixed grill of rubble, restored buildings, and river.
The rubble is what was left after 1966, the guide points at marble capstones still laying in dirt 42 years later, and tells how the troops came and brought down the buildings. He talks about the complex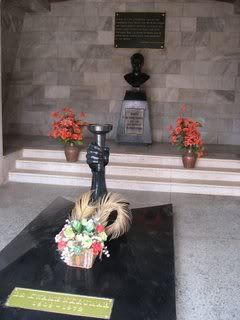 then, the library, the swimming pool, and the lecture hall, and points to an area where squatter's homes have taken residence, implying this is where it all was, and look what has happened to it today.
The restored buildings, a two-room house and a detached kitchen, are the only new ones and are built on the foundation of their originals. Inside is unfinished. Between the two is the mausoleum where his body rested between its first burial in Guinea, and where it rests today in Accra. Looking at the empty tomb, and his bust above it, the one our guide kisses and clearly adores, I begin to see what I've heard about before, The Cult of Nkrumah.
The guide had taken us to the River Subre, where the miracle of the fish occurred. "Nkrumah was just two," the guide explained, "and on his mother's back as she crossed the river. Kwame told her she had stepped on a fish." I get it, but the guide goes into a lot more detail than helps the story and by its end, I'm thinking the miracle wasn't that Kwame saw the large tilapia under his mother's foot, but that she listened to her two year old. Nkrumah used to visit his home, offer libation to the gods, and bath in the river. He believed in its power, but one time, when he was still president, he came to meet a dry river.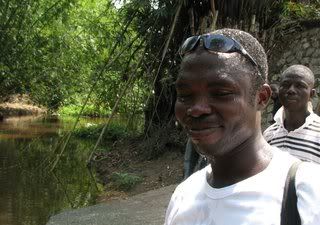 The guide explains, "He pored libation, and then took his staff and struck the dry riverbed, and the water flowed. "Even to this day it has never been dry." In fact we learn that Ghana's current president, John A. Kuffour bathed in this river before he won the election. The guide encourages us to also bathe, and Emmanuel completely covers his head with water. Me, I am content to just wet my face.
I think about how Biblical these stories are, like Moses striking the rock and water gushing forth, or the fish miracles of Jesus, a multitude, feeding 5000, the coin in its mouth, but then I also think about our own stories of George Washington, how he can never tell a lie, or the one about chopping down the cherry tree, and maybe they are not so different. We need to believe a little bit of the divine was responsible for the creation of our country.
From Nkroful, we head to the border town Elubo on the Ghana side of the Ivorian border. Along the way I am introduced to Rice Kenke. Kenke is street food that is unique as the region it comes from. Perhaps the most famous is the Fante Kenke that comes from the Cape Coast area. We usually pick up 10-20 blue bags of it to give out to our guards and house help when we see it.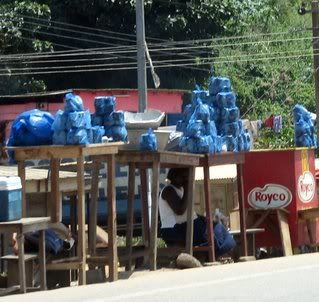 Around Accra, its Ga Kenke, which I prefer over the Fante, Ga and Fante being tribal names, but of the three I now prefer Rice Kenke.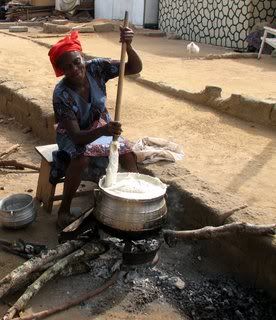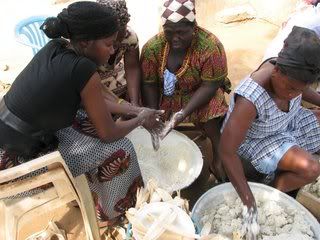 Fante Kenke is wrapped in banana leaves and fermented, Ga, in corn husks, and rice in banana leaves, but then roasted, giving it a slightly smoky flavor.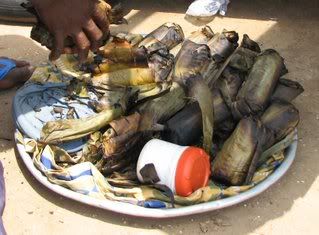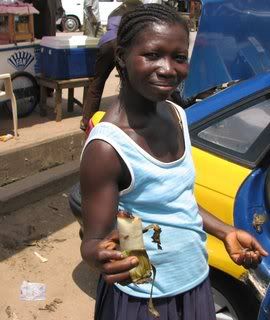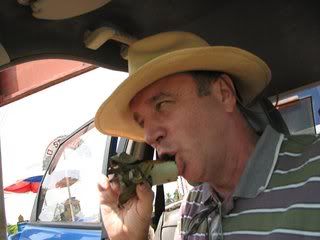 Elubo feels much like any other border town I've been in, money changers, liquor stores, and plenty of unsavory people. Its raining the whole time we are there, so the dirt roads of the town turn to mud, serious mud. We go to the Ivorian border and try to bluff our way across, but I failed to bring my passport, so we are turned away. I see a FORD, which is the name given to the 15 passenger vans that race between major cities. Though Emmanuel wants to spend more time with me, I am ready to go, and so for $13 I squeeze in with 15 other passengers, and off we go. It is then, when I am trapped between two really large Ivorian women, the kind you could say "I admire your structure" to, in a seat made for three holding four, that I remember the FORD's other name, "Flying Coffin." It goes fast but the time doesn't an for five and a half hours, I am smashed between these women, sweating hip on hip, arm on arm, shoulder to shoulder. I see only two vehicles pass us, and they both had embassy plates. Because the FORD is more expensive than TroTro or shared taxi, it attracts a more affluent clientele, and here affluence often translates to size, weight and in this case girth. It's a FORD filled with really, really large people. On a TroTro I'm usually the fattest, but not here, not by a long shot. It is also air conditioned which is nice, and there are no goats under my seat, though my feet rest on two 70 lbs bags of rice. Its Uncle Sam Rice from Thailand, or at least that is what the bag says.
I have plenty of time to think about Emmanuel, and choices he is making. We see the remains of accidents, and in the paper the next morning, I see 21 people died along this road and the one I was traveling just a week before.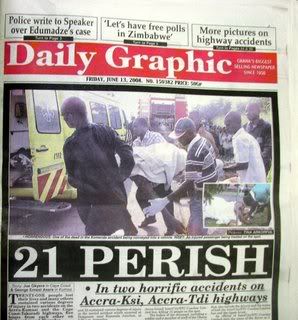 No wonder that the leading cause of non-infant death in Ghana is traffic fatality. Usually its TroTros, but this time it was STC bus (STC – State Transport Company, the Greyhound of Ghana), and by the roadside, I count the remains of three buses. Travel is just dangerous, and so are friendships. I feel like I ought to be furious with Emmanuel, and Suzanne is when I tell her the details our adventure. I can't stay angry, disappointed yes, upset no, and in a few days, after we have texted back and forth, I text back,



As God has forgiven me, so I forgive you. Now go and leave that town and return to your wife and children and be the man God made you to be.
As I write this, he is still thinking about it, and as for me, D-Day is just 7 days away. D-Day being our Delta Day, when we fly out. So, there is unfinished business between us, but I will continue to pray for my lost friend, that he finds his way home in time.
Pray for us too, as we ready to return home, to resume a life we have changed from.